Maximize Your Mojo
Mojo SportClinic offers Personal Training that is integrated with your Physical Therapy diagnosis and treatment plan. At any point during your Personal Training plan, you can ask questions or get a quick check-up from our Physical Therapy staff. Our customers are amazed with the powerful combination of Physical Therapy and Personal Training that we offer.
GO BEYOND with Personal Training
Our Personal Training Plans are specially designed to boost specific body parts, functional strength, core stability, power and endurance, and lots more. Some of our Plans are sport-specific, while others are geared toward cross-training and general health goals. Here at Mojo SportClinic, our Physical Therapy staff and Personal Trainers collaborate to guide you toward the right Training Plan for you.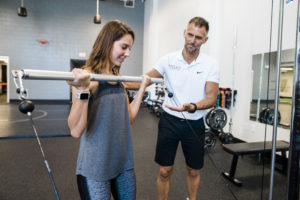 Personal Training Plans We Offer
All Training Plans cost $40 per session, with sessions lasting 50 minutes. We offer in-person Training at our amazing facility at Mayfaire Center in Wilmington, NC. We also offer Remote Personal Training using Apple FaceTime or Google Duo. The following Training Plans have been designed to meet the needs of our customers across all ages and athletic abilities:
| | |
| --- | --- |
| Bulletproof | Baseline strength conditioning |
| Body Awake | Rebuilding muscle and joints after traumatic injury |
| Excel | Sport-specific for optimum performance |
| Fit to the Core | Core, Abs and Stability building |
| Conquer | Goal-specific training for athletic performance |
| Muscle | Adds lean muscle mass and strength |
| Ignite | Achieves peak performance for upcoming sports season |
| Commit to be Fit | Improves aerobic capacity and Vo2 Max |
| Fit Infinite | Improves overall fitness, appearance and performance |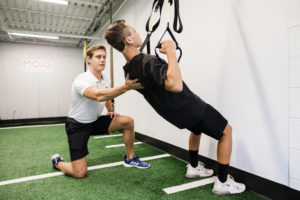 How to Get Started with Mojo Personal Training
We offer our Personal Training services to all our customers, but we require an initial screening first. This is so that we can perform Physical Therapy baseline testing to ensure we guide your Training in the right direction. To get started, just use the Reserve Your Spot tool, and then come see us!